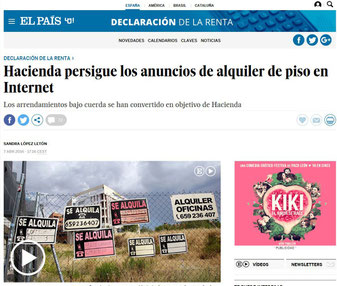 Vanochtend op het Spaanse nieuws van Telecinco: Hacienda zoekt elke keer actiever naar eigenaren van appartementen die verhuurd worden, op het internet, door middel van advertenties in de krant en zelfs via de bordjes op straat.

Als u uw huis of appartement verhuurt, vergeet dan niet dat u de verhuurinkomsten in Spanje moet opgeven bij de belastingdienst. Is uw huis of appartement voor de vakantie verhuur? Dan dient u deze daarnaast ook aan te melden bij toerisme van de Comunidad Valenciana, wij kunnen u daarbij helpen!
Lees meer hierover in de Spaanse krant El País klik hier.
Saludos, Manon