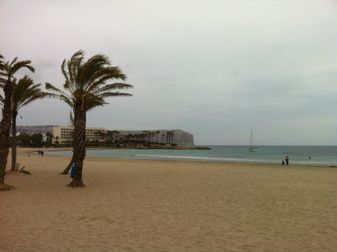 ... kan ook een heerlijke dag zijn! Voor een wandeling op de boulevard El Arenal, te spelen met je kinderen op het strand, te vliegeren of naar een van de speeltuinen te gaan, op het zandstrand of ergens anders in Javea zoals in het Pinosol park.
Nu het niet zo heet is is het ook heerlijk om te wandelen, er zijn vele routes in Javea om te ontdekken, bezoek de oude stad of maak een heerlijke wandeling langs de kust Muntanyar van de haven tot het Arenal strand en terug.
En als het regent? Geniet van een drankje op een van de vele terrassen achter het glas en kijk naar de golven. Of bezoek een van de musea in de buurt zoals het Soler Blasco Archeologisch en Etnografisch Museum in Javea.
Voor degenen die simpelweg van de zon houden, geen zorgen, normaal gesproken schijnt deze weer snel genoeg!
Saludos, Manon