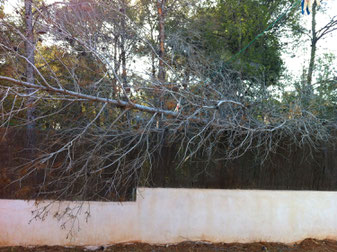 De laatste dagen is het weer in Javea onregelmatig geweest, van 21 graden en zon tot heftige (korte) regenbuien en zelfs een hagelbui eergistermiddag. Dit alles gepaard met zware windstoten.
Wilt u niet voor verrassingen komen te staan wanneer u  terug komt in uw (tweede) huis in Javea? Zoals omgevallen bomen of weggeblazen dakpannen met als gevolg regen die via het dak langzaam naar binnen kan lopen? Neem contact met ons op! Wij kunnen een extra controle uitvoeren na deze zware weersomstandigheden. Zo weet u zeker dat alles in orde is en dat in het geval van schade of problemen deze snel verholpen worden, voordat het erger wordt. 
Laat ons dit op tijd voor u regelen en zo hoeft u hier niet mee aan de slag wanneer u hier op vakantie komt. Vergeet ook niet de verzekeringspolis van uw huis te checken met uw verzekeringsagent. Bent u er niet zeker van wat de verzekering van uw huis dekt? Ook daarvoor kunt u contact met ons opnemen!
Saludos, Manon