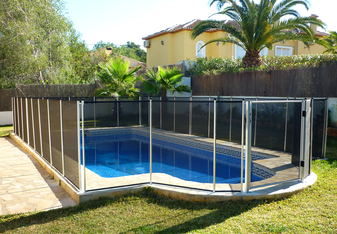 Een vakantiehuis aan de Costa Blanca is geweldig en meestal komt dit met uw eigen privé zwembad.
Echter, vooral met kleine kinderen, moet u erg oppassen met een zwembad en altijd de veiligheidsregels en richtlijnen volgen.
Een omheining rondom uw zwembad kan u hierbij helpen. Enkele dingen die u bij het plaatsen van een hek om uw zwembad in de gaten moet houden zijn: de omheining moet 1.22m hoog zijn, het moet een deur hebben die automatisch sluit, het moet van materiaal gemaakt zijn dat moeilijk is om op of overheen te klimmen en donkere kleuren gaas geven meer transparantie, dit ziet er niet alleen mooier uit maar geeft u ook meer zicht op de kinderen wanneer zij in het zwembad zijn.
Deze omheining (zie foto) is verwijderbaar en daarmee ook een goede optie wanneer u uw huis in Javea verhuurt, voor uzelf of voor uw gasten. Families met kinderen kunnen uw huis huren met zwembadomheining, andere willen wellicht uw huis liever huren zonder. Beide is mogelijk daar deze hekken gemakkelijk en snel te plaatsen en te verwijderen zijn voor elke verhuur. Een extra optie wanneer u uw vakantiehuis verhuurd!
Bent u op zoek naar een bedrijf dat deze zwembad omheining kan installeren of wilt u meer informatie ontvangen? Neem contact met ons op!
Saludos, Manon