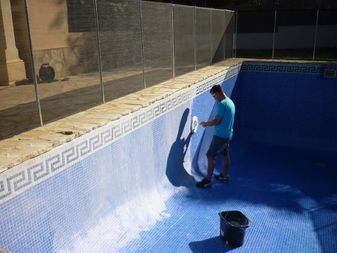 It's almost autumn and most of you might still be enjoying the last days in the pool. After that it's time for a proper check of your pool and use the winter time to do some repairs where needed.
For example once every certain amount of years it's good to grout the joints in between the tiles. That way you keep away the bacteria and mould in the joints and it makes it much easier to clean the pool afterwards.
Besides, did you know the water gets "old" and products will not be as effective any more? Another reason to get the work done and refresh it so next year you won't need as much chlorine for example.
Contact us in case you need help with your pool.
Saludos, Manon