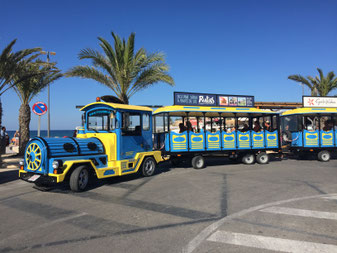 U heeft hem vast al zien rijden deze zomer, het toeristische treintje in Javea.
Voor de kleintjes onder ons of voor wie een ritje wil maken door Javea kan opstappen op deze trein aan het einde van de Arenal op de grote parkeerplaats of in de haven. Vervolgens kunt u een 7km lang rondje maken langs de Arenal, La Caleta, El Muntanyar en de haven en bij elke halte in- of uitstappen om te gaan wandelen, eten of te winkelen.
Het treintje rijdt in de maanden juni t/m september dagelijks elke 45 min. van 10.00h ´  s ochtends tot 01.15h ´  s nachts.
Prijzen: € 4,- voor volwassenen en € 3,- voor kinderen.
Saludos, Manon