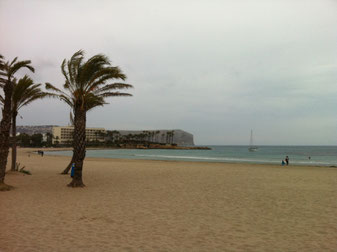 ... can also be a nice day! For a stroll at the boulevard El Arenal, playing with your children on the beach, fly a kite or go to one of the several play grounds, at the sandy beach or elsewhere in Javea like the Pinosol park.
Now that it´s not too hot you can also enjoy hiking, there are many routes to explore, visit the old town or go for a nice walk along the Muntanyar beach from the port to the Arenal beach and back.
And when it rains? Enjoy a drink behind the glass on one of the many terraces and watch the waves. Or visit one of museums nearby like the Soler Blasco Archaeological and Ethnographic Museum in Javea.
For those who just love the sun, don´t worry, normally the sun comes out soon again!
Saludos, Manon