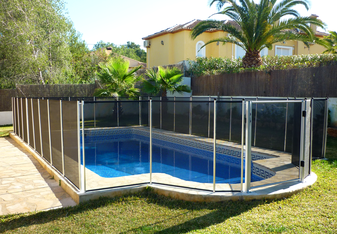 Having a holiday home in the Costa Blanca is great and most of the time it comes with your own private pool. However, especially with little children, you need to be very careful and always follow the safety rules and guidelines.
A pool fence can help you to keep children out. Some features to bear in mind when installing a pool fence: the fence should be 1.22m high, have a gate that automatically closes, needs to be from a material that is difficult to climb and dark colours are more transparent, which looks nicer but also gives your better visibility when your children are in the pool.
These fences (see picture) are removable, therefore also a good option if you rent out your property in Javea, for yourself or for your tenants. Families with children can rent your property with the pool fence, others might want to rent your home without the fence. Both is possible as these fences are easy and quickly to place and remove for each rental. An additional feature when renting out your holiday home!
Looking for a company who can install these type of pool fences or want more information? Contact us!
Saludos, Manon