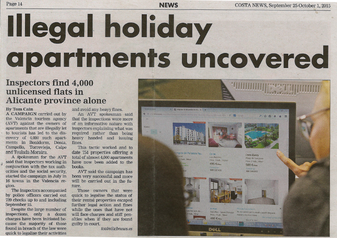 Aan het begin van deze maand publiceerde het blad Costa News een artikel over hoe bij een campagne uitgevoerd door het Valenciaanse toerisme agentschap (ATV), 4.000 appartementen zijn ontdekt die illegaal verhuurd werden aan toeristen in Benidorm, Denia, Teulada, Moraira en andere dorpen en steden. ATV beschouwt de campagne als zeer succesvol en er zullen er nog meer plaats vinden in de toekomst.

Dit toont nogmaals aan hoe belangrijk het is om uw accommodatie wanneer u deze verhuurt te registreren bij Toerisme van de Comunidad Valenciana. Voor het geval er problemen zijn of zoals in dit geval om boetes en erger te voorkomen.


Indien u hulp nodig heeft bij het registreren van uw vakantiehuis of appartement neem dan contact met ons op! Wij kunnen u al het benodigde papierwerk uit handen nemen.
Saludos, Manon